Regular price
Sale price
$22 USD
Unit price
per
Save
Sold out
A delicate blend of…
gentle milkweed ✦ soft rose ✦ bright neroli ✦ light musk
Illuminate…
Midsummer meadows
Of sun sweetened
Nectar, wispy
Asters, clouds
Resting in the
Cerulean sky. Dreams
Hover in this moment.
Listen to the cicadas buzz in the dry, late summer heat. Reassuring. Comforting.
Timeless.
Bright orange & velvety black butterflies flutter among the milkweed that lines the path. The dusty purple flowers with their spicy sweet seductive scent, refreshing & otherworldy, entice the bees, who join the summer serenade.
The evocative florals, sweet as nectar & dew drop fresh, invigorate your imagination & lift you up.
You pause.
Your attention captivated.
Look closer.
Magic unfolds before your very eyes. The new wings of a shining butterfly stretch in the soft breeze.
This is a safe space to grow wings.
✨🌱 We've been planting native flowers for the butterflies, bees, and birds. We will be able to offer some seeds next season! Follow our progress: 
🦋 FB / IG @ Earth Berry Apothecary
🦋 TikTok @ Mosswood Forest
Candle Information

Crackling Wood Wicks

✦ 8 oz eco-friendly soy wax

✦ Black or silver metal twist lid

✦ All natural crackling wood wick

✦

 Enjoy 50+ hours burn time!

✦ Dimensions: 3.5" x 2.86"

 

Regular Soy Candles

✦ 8 oz eco-friendly soy wax


✦ Black or silver metal twist lid

✦ Lead-free cotton & hemp wick

✦ Enjoy 50+ hours burn time!

✦ Dimensions: 3.5" x 2.86"

 

Travel Size

✦ 3 oz eco-friendly soy wax

✦ Rustic bronze metal twist lid

✦ Lead-free cotton & hemp wick

✦ Enjoy 10-12+ hours burn time!
Candle Care

✦ Keep wicks trimmed to 1/4".

✦ Keep the melt pool free of debris. We love pieces of flowers and stones in candles, but they can make the flame flare up, so all of our candles are made simply with wax, wick, scent, and smiles.

✦ For best results, burn long enough for the melt pool to reach the edge of the jar, about 1-2 hours. This eliminates the tunneling effect. If there's a little unmelted wax, future burns often build up enough heat to melt it.

✦ Burn no longer than 4 hours at a time. Candles start to burn faster at that point, and you'll have to get a new one sooner.

✦ Burn within sight, on a sturdy, heat-resistant surface.

✦ Keep away from children, pets, and drafts.

Burn with safety and enjoy!
Soap Information

About

❤️Each small batch of Earth Berry Apothecary soap is handcrafted from mindfully chosen real ingredients in our studio in Michigan.

🌱 Most soaps are vegan friendly, however check the list of ingredients because we sometimes use milk and honey.

✦ Luxurious recipes for sensitive skin

✦ Natural exfoliants to make you glow

✦ Exclusive nontoxic fragrance blends

✦ Free of harsh sulfates & detergents

✦ Free of phthlates, parabens, & dye

 

Measurements

✦ Dimensions: 3" x 2.75" x 1"

✦ Weight: approx 4 oz
Soap Care

✦ Allow your handcrafted soap to dry completely between uses

✦ Keep your soap up out of water, on a soap tray that drains, and out of direct streams of water

✦ Using a washcloth will extend the life of your soap. In addition, a soap saver bag will help use every last bit of soap.

Suds up and enjoy!
Shipping Information

Thank you for supporting a family run business 🖤

Your items will be shipped within one week of purchase, unless you are otherwise notified. We thank you for understanding and assure you it's worth the wait, if there is one!

Please click here for more information.
Share
View full details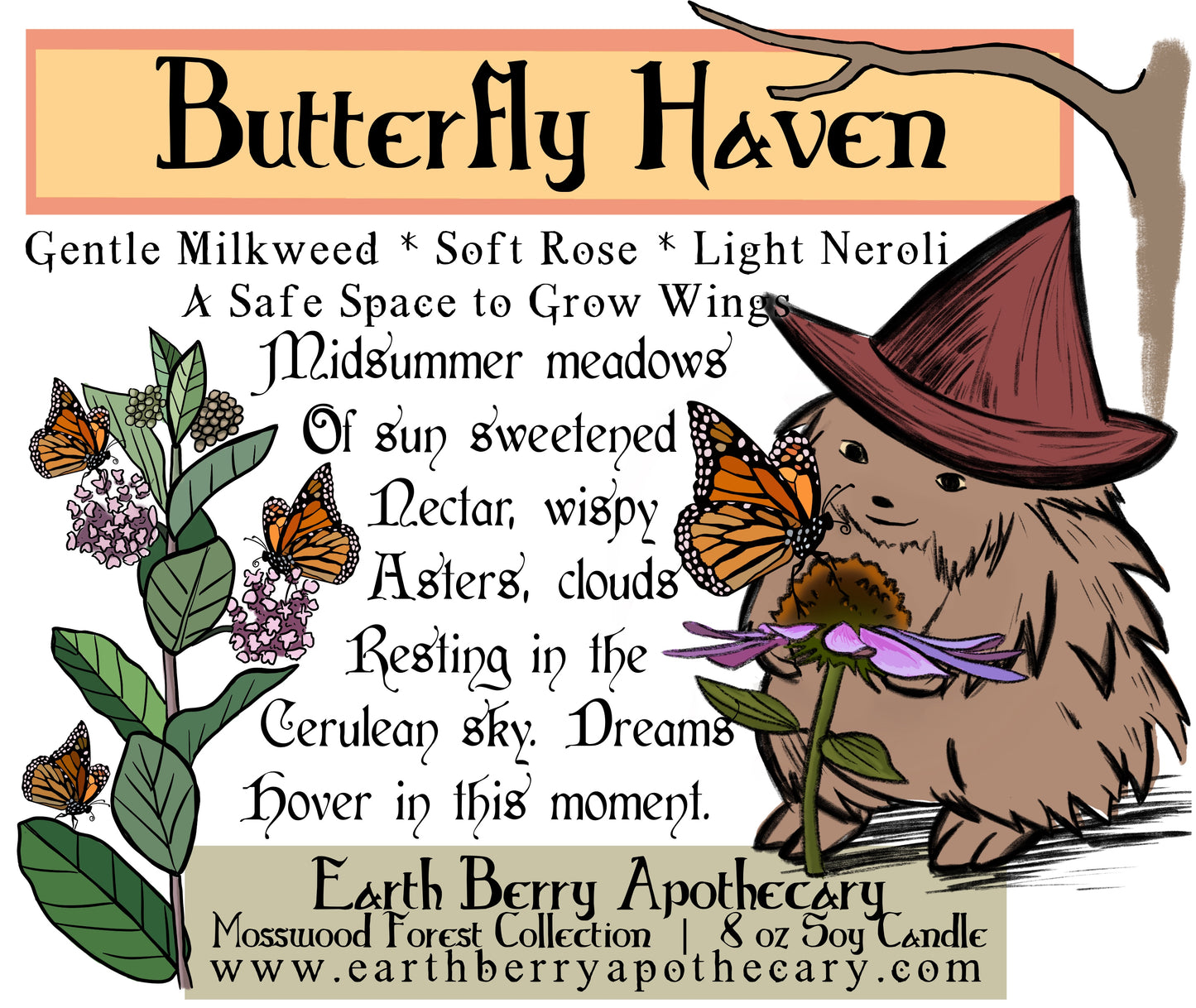 Summery
Lovely and floral. It makes me think of being in a meadow on a sunny summer day with a gentle breeze carrying the scent of flowers along.
So delicate!
This is by far one of the most docile and gently scented candles we own and I love it! It's a soft bouquet, very creamy and rich, perfect for a bath or any destressing needed for the day!
Best candle ever
Best candle I've ever had smells so amazing
My Oh My
The second I smelled this divine scent I was transported to another beautiful world! It really is a Butterfly Haven, a stellar revitalizing and flowery scent you won't want to pass up. Invigorate yourself in this captivating aroma 💖
Smells like HEAVEN
Best smelling candle I have ever smelled!!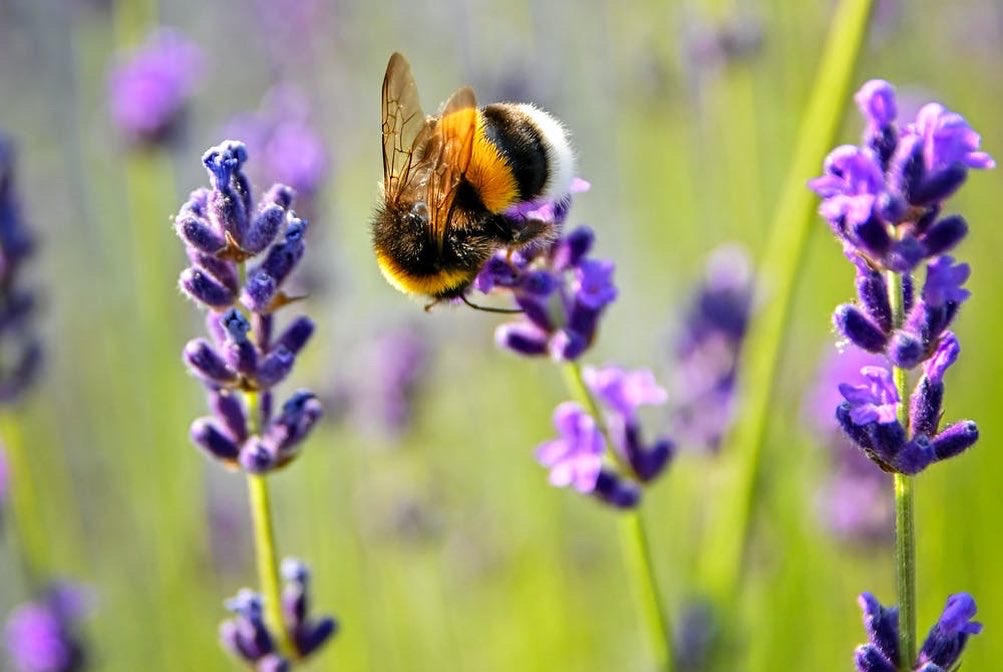 Earth Berry Buzz
Why subscribe to Earth Berry emails?
✦ Secret codes for #berriedtreasure
✦ Stay in the loop for new items
✦ Early access to select products & sales
✦ Special gift ideas & coupons
✦ Self care tips, meditations, forest stories, & more
Enter your email below ✨
Let customers speak for us